Home - Golf Courses > Miyakojima (Okinawa) > Shigira Bayside Suite ALLAMANDA
Shigira Bayside Suite ALLAMANDA
926-25 Uenoshinzato, Miyakojima-city, Okinawa 906-0202
Tel: +81-980-74-7100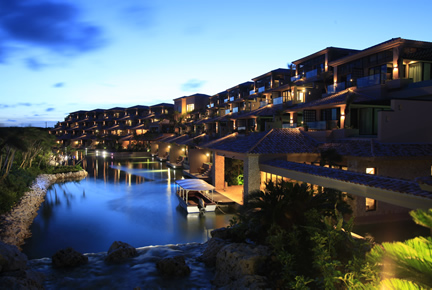 The ALLAMANDA resort hotel, one of the largest of its kind in Japan, consists entirely of deluxe suite rooms - 86 of which even have their own private pools.
Surrounded by breathtaking sapphire-blue waters and coral reefs infusing the coastal areas with radiant color, the ALLAMANDA is the perfect place to indulge in the wonders of Miyakojima.
Say goodbye to the worries of everyday life, relax with someone special, and enjoy an elegant stay on this peaceful, heavenly island.
Guest Rooms
Dining
Hot Spring Bath &
Other Facilities
Others
Shigira Bayside Suite ALLAMANDA


Not only is every room an amazing suite at the ALLAMANDA, but every single suite at the Pool Villa Royal Suite and Pool Villa Lagoon Suite has its very own private pool. The interior styles of these suites, a fusion of Asian and European tastes conceived and designed by world-renowned Italian furniture maker Cassina, lend another refined, luxurious element to the overall experience.

The Superior Suite and ShigiraOcean Suite rooms in the main building, meanwhile, create a relaxed, comforting atmosphere through the natural beauty of wood. With Okinawan art adding unique visual accents throughout the entire resort, the ALLAMANDA strikes a harmonious chord with the gorgeous aesthetics of Miyakojima's natural scenery.

64,800〜324,000 yen per person and night, including dinner & breakfast

---

| | | |
| --- | --- | --- |
| * | Japanese-style room with private hot spring bath | |
| * | Large Japanese-style room (4 or more guests) | |
| * | Western-style room with private hot spring bath | |
| * | Western-style triple room | |
| * | Non-Smoking room | |
| * | Single guest room | |
| * | Children under 12 Years allowed | |

Shigira Bayside Suite ALLAMANDA

The Shigira Bayside Suite ALLAMANDA hotel is home to restaurants that showcase an astonishing spectrum of tastes to suit any mood, including creative Japanese cuisine made from fresh Okinawan ingredients, teppanyaki (hot-plate grilling) grilled to perfection right before your eyes by skilled culinary artists, and broiled seafood caught in the bountiful waters surrounding Miyakojima.

In addition to these dining establishments in the hotel, the resort also boasts restaurants specializing in Chinese, café and pizza fare, Italian food, yakiniku, open-air food stalls, and sushi – enough to thrill your palate for days, weeks, and months on end.

---

| | | |
| --- | --- | --- |
| * | [Dinner and Breakfast] plan available | |
| * | [Breakfast Only] plan available | |
| * | [No Meal] plan available | |
| * | [Special Meal] request (e.g. No pork) | |
| * | [Vegetarian Meals] available | |
| * | [Western-style] breakfast available | |
| * | Dinner served in guest room | |
| * | Breakfast served in guest room | |

Shigira Bayside Suite ALLAMANDA

The main building features a pool and hot tub nestled among lush greenery and tropical blossoms, while the Pool Villa building boasts a pool right on the edge of the lagoon.

Both areas are free for Allamanda guests and open from sunrise to sunset.


---

| | | |
| --- | --- | --- |
| * | Shared Outdoor Hot Spring Bath (Same Gender Only) | |
| * | Mixed Outdoor Hot Spring Bath (Both Genders) | |
| * | Shared Indoor Hot Spring Bath (Same Gender Only) | |
| * | Private Hot Spring Bath in Guest Room | |
| * | "Family Bath" (Privately Reserved Hot Spring Bath) | |
| * | Gym and fitness facilities | |
| * | Swimming pool | |

Shigira Bayside Suite ALLAMANDA

---

| | | |
| --- | --- | --- |
| * | English Ability of the Ryokan Staff/Owners | |
| * | Internet Connection | |
| * | Parking | |
| * | Pickup Service | |
| * | Pay with a Credit Card | |