Main Island (Okinawa)
Kanucha Golf Course is a championship-caliber, par 72 golf course sure to challenge even the most seasoned player.  The front 9 holes look over the beautiful bay and is entitled the "Seaside Course."  Whereas the back 9 holes are surrounded by the forests and entitled the "Village Course." 
For beginners or customers who do not want to play a whole round this golf course have plans for shorter games.  "A Little Golf" consists of 3 or 6 hole games.  "Happy Golf" consists of two people playing as a team making it fun for a family or friends to casually play together.
---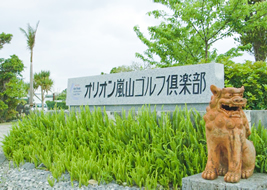 Orion Arashiyama Golf Club is 18 holes of pure paradise built upon the Okinawa's natural hilly terrain, which is highlighted by tropical plants and flowers.  
Challenging play, breathtaking scenery and first class facilities make Orion Arashiyama Golf Club a one-of-a-kind golfer's paradise that was selected as the golf venue for "Corporate Games 2015," the world's largest multi-sport festivals for business and organizations.